Unpretentiousil – the cure for "HIPSTER"
Unpretentiousil cures Hyper Involuntary Panic Stress Tension Elevation Response disorder.  Although the disorder has been persistence for years and there are many individuals with "HIPSTER," this much needed drug is fictional.  The spot was released by Crossroads Church in Cincinnati, OH.
Unpretentiousil Viral Basics
The Unpretentiousil video has since been taken down for unknown reasons, but in the two weeks it was up it had over 900,000 views.  At Optimal we have always said that viral happens
after years of consistent audience development and posting.  In this case Crossroads Church started their youtube account on February 8, 2011 and has consistently posted a mix of humor and knowledge.   Their 1st video was a parody of all the auto insurance ads stating, "It's the switching that counts."  That was over 2 years ago and they haven't let up releasing 60 videos in total.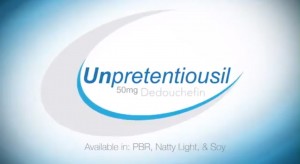 If you liked the Unpretentiousil video then you may also like Crossroads Church's Manbelline, or John Handock Auto Correct videos.Another other key factor to the video's success was hitting on a popular cultural point, the hipster culture.  The hipster culture acknowledges that despite their anti-conformist attitude they are exactly the opposite and are the 1st to point it out.