Ads of the week: Young creatives strike gold!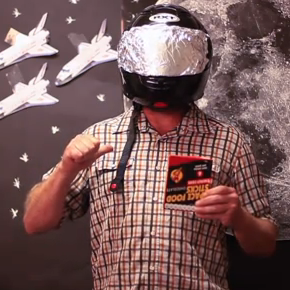 This week, our top three ads are all focused on the talent of young minds. In each of the ads, ambitious creative talent pays off big time, and are even having some viral success.  Check out what Space Food Sticks, HeadBlade and Batchelors Super Noodles are up to!
So what did you do with the noodles? – Batchelors
The gap between old and young has never been funnier.
In this :30 spot, an older CEO talks to a fresh-out-of-college worker from Promotions about his idea. He wants to put money in their packaging, but the CEO thinks the noodles will be replaced by the cash, not simply added to it. As the younger man ponders where the noodles would go, his mind drifts to an ATM blasting noodles out at a poor woman.
I thought this was a silly, yet effective advert.  The age gap is used to full effect and I love the looks and sounds of the two men interacting uncomfortably.  Facial expressions at :15 and :19 are priceless.
The gag at the end is ridiculous, memorable and something I'd like to see in real life. Especially when people are taking forever at the ATM. I remember the Super Noodles product, I am entertained and I like the idea. Good ad.
HeadBlade shaving helmet goes viral
I feel like these real-or-fake stunts are becoming a little too common, but this one fits our theme and is definitely effective.
In this mobile phone-shot ad, two young inventors are showing off their latest creation – a helmet that shaves your head without knicks in 20 seconds. They give us a demonstration of the blades, shaving cream injectors and LED timer first, then put it on a test subject. The camera moves to the inventor as he explains what is going on. Finally it cuts back to the subject to show his head is shaved clean with no knicks, still with shaving cream residue.
Now, the razors on the inside of the helmet are for a real company called HeadBlade, but the helmet is of course fake. They merely switched out twins while the inventor was talking to create the illusion. The only thing that really mattered is that it worked!
Traffic to their site exploded, thousands of orders for the fake helmet came in, and they got more exposure than they ever thought possible. I really liked the video. The set-up of handheld camera and one shot made it believable, the gizmo looked terrifying but just crazy enough to work.
I also like how a viral stunt was finally for a product featured in the actual video, not for something entirely unrelated. Hence, this effort, while not very complicated, was incredibly effective.
Lost in Spacey
(NSFW-Language) This spot was a winner in Google Australia's YouTube Creative Festival, and for good reason.
We start with bright-eyed creatives loving their idea for Space Food Sticks – shoot the ad in space with actor Kevin Spacey as a spaceman. While the Creative Director thinks they are joking with him, they split off into groups to set up the shot and get the Usual Suspects star.
Amazingly enough, after bumbling about on Google and making some awful phone calls, he comes through and brings in Kevin Spacey. Unfortunately, the other two have a terrible space scene set up and outfit Spacey with a biker helmet covered in foil. But he does pull through and give the pitch, muffled and absurd. They consider reshooting, but then just decide to go with what they got.
This ad had me literally laughing out loud throughout. The young guns with their awful yet serious pitch is spot-on and would make any marketer laugh. Ironically, the one kid does pull through and get Spacey, and his cameo is amazing. The other slacked off so bad, and Spacey has to read the copy in a ridiculous outfit, in front of cardboard space, and holding the product upside-down.
I have no idea if Space Food Sticks are real, but I want some after this ad. It is extremely clever and memorable with a lot of tongue-in-cheek references to the industry itself. That's why this is my Ad of the Week! Hope you enjoyed.